IS OVERWASHING YOUR FACE BAD?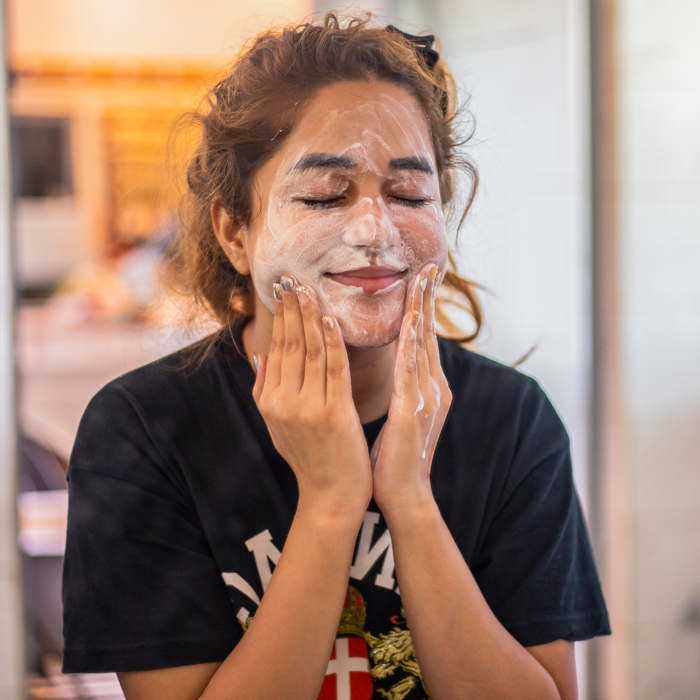 Wash your face frequently and thoroughly to have clean and fresh-looking skin, Uhmmm… they are right. partially, though. It may seem like a no-brainer, a daily ritual, so to speak, but there is more to it than meets the eye. We have all heard the age-old phrase that too much of anything is bad. The same applies here. Just like not washing your face enough is bad, washing it to excess is too.
Even when we don't wear makeup, everyone emphasises the need of cleansing because dirt, oil, and sweat can accumulate on the skin's surface. Washing our faces helps get rid of excess oil and dirt, which contribute to acne, blemishes and breakouts.
Overwashing can have numerous downsides and implications for your skin. While removing excess oil, makeup and clogged pores is essential, the skin produces healthy oils that help fight harmful bacteria. Overwashing can strip your face of these essential natural oils and ultimately result in breakouts.
How often should you wash your face?
Most skin experts recommend washing your face once in the morning and once at night. This is obviously influenced by a variety of external factors, including your living environment, skin type, and even your diet, to name a few.Washing your face in the morning removes the oil, internal pollution, and irritants that may have accumulated on your pillowcase during the night. Washing it at night is essential to remove makeup, pollutants, dirt, and other harmful substances that may have gathered on our skin during the course of the day. These form bacteria that cause clogged pores and breakouts.
Most importantly, it comes down to knowing your skin type and figuring out what suits you the best. Understanding if you have dry, combination, or oily skin can help in choosing the right facial cleanser. The Oceglow Intense Hydration Cream Cleanser is a great gentle cleanser that suits most skin types. It melts into skin to lift away dirt, grime, and impurities, including stubborn make-up, without stripping the vital oils.
How to figure out if you are overwashing?
If you suffer from dryness and a constant feeling of tightness, then you know you might have gone a bit overboard. Redness and the associated flaring up also usually indicate that the skin has suffered some external damage and needs addressing.
If you suffer from acne or excess oil buildup, it gets a little tricky here since opting for a drying facial cleanser might seem like the most obvious thing to do. But be careful here, since drying products have a tendency to make our skin overcompensate by producing more oils. The skin's oil levels and moisture levels are two completely different measurements, so oily skin can also lack hydration and be dry. Choosing a cleanser that gently exfoliates but doesn't strip the natural oils should be the way to go. Oceglow's cleanser has an effective yet gentle formula that uses 1.8% salicylic acid, helping to exfoliate and cleanse, all in one while smoothing the skin's texture and maintaining its natural moisture. It releases particles that create an optimal skin environment, supporting the skin's innate renewal processes.
Make yourself a routine and find the best product for yourself to help maintain your skin's natural glow and radiance. Give it time to restore and replenish. Keep your skin products as natural as possible, and enjoy your skin!